A coffee shop offers more than a cup of locally brewed coffee and an irresistible aroma. It's a place to discuss the start of a new business, a place to seek warmth in cold weather, a place to catch up with a friend uninterrupted, or a place for aspiring writers to start their first novel. Aspen Coffee's motto is simple, make great coffee and love the people that come in for it.
Matt Johnston, co-owner of Aspen Coffee, aspired to create an atmosphere that comforts the people who enter its doors. Johnston says, "Even if someone only buys one cup of coffee that day, we want the customer to feel comfortable staying several hours." Each of the six locations provides a unique design, some providing an old 1900s feel with exposed brick, some providing a modern and airy feel with concrete walls, wood countertops, and high ceilings.
Johnston and Kelly Lyda, cofounder of Aspen, grew up as best friends, knowing they wanted to go into business together, but needed the venture's vision. Coffee spots were becoming popularized by trending TV shows in the '90s, like Friends, Frasier, and Seinfeld. Starbucks was booming in every city. The rising popularity of coffee shops and appreciation for quality coffee, in addition to their hospitality experience, ultimately inspired the two to open an independent coffee shop. They wanted to create quality coffee in a space that felt like home when customers were away from home. And so, a new chapter began.
After 28 years and locations in three cities, Johnston and Lyda built a reputable brand within the community as the original Oklahoma craft coffee. "We've never focused on making the most money," Johnston said. "It's always been about building customer relationships and a sense of community. We realized that if you take care of your people, they'll take care of you." Johnston and Lyda try to hold out until the last minute to raise prices when everyone else is increasing costs. During inclement weather, the shops remain open if possible for customers who frequently come in.
The flavored lattes are the most popular items but don't sleep on the Granita, a sweet frozen version of the latte. Another favorite of Aspen's is the Cortado, an espresso with a bit of steamed milk. Cortado is a well-known drink in Spain, Portugal, and Latin America. Smoothies and treats baked from scratch are available, including tasty gluten-free options and chocolate-covered coffee beans for days of indulgence.
Aspen roasts fresh beans in Stillwater and brews the coffee using manual espresso machines instead of fully automatic. The manual machine allows customizing and the ability to control the process and pay attention to every detail, providing the highest quality possible. Attention to quality and detail is paramount to hands-on quality. From selecting the beans to the flavors and foam designs to the customer experience, the baristas pamper the coffee beyond the cup.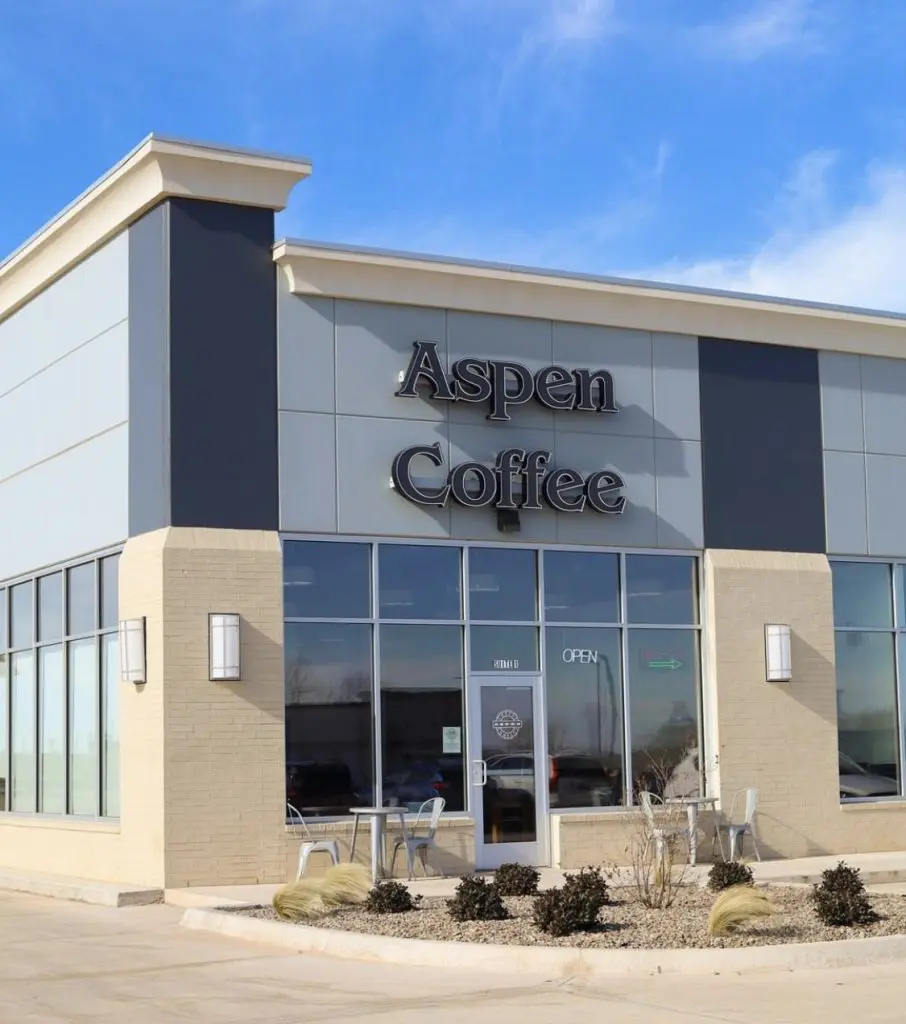 When we think of early childhood education, we often think of pre-K and primary school. But children are born ready to learn and depend on everyone around them to help develop their skills to become independent and lead strong and successful lives. By age 5, a child's brain is 90% of an adult's size. KidStrong has created a program that offers innovative training with a curriculum based on the latest in developmental science and leverages experts in pediatric occupational therapy, child development, sports physiology, and physical education.
Matt and Megin Sharp started KidStrong in Oklahoma after noticing a massive change in their 2-year-old daughter's development after things were closed during the pandemic. A friend reached out about a children's character and physical development class, so they tried it. During the first couple of classes, their daughter was in Matt's lap crying. But after sticking it out, she is now a "Titan" who will stand up in front of the class, saying, "I am strong, and I can do this."
After seeing the growth, the business intrigued Matt. Apart from extracurricular activities, there aren't many programs focused on 6-month to 11-year-old children. Matt then contacted KidStrong's owner to discuss starting a branch in Oklahoma. The Sharps opened their location in April 2022 after purchasing the rights for the entire state. Hundreds of children in the metro area excel in the program, including their daughter and 2-year-old son.
The program provides the tools to "win at life," Matt said, "by focusing on character building and the X factor." The educational aspect of the curriculum is critical thinking. They have the kids run, causing them to tire physically. Amid exhaustion, the child must solve a problem to ensure they can still win during difficult times.
"KidStrong isn't meant to replace extracurricular activities; it's to give them an edge to succeed in them and act faster," Matt states. A 2-year-old in KidStrong might be on par with a 3-year-old who's not in the program. The program provides optional materials to take home to continue sharpening skills. The checklist includes taking pictures, helping with chores, or donating something. These actions help maintain a KidStrong focus, with affirmations to recite daily.
The courses provide interactive training for parents to engage during classes. "We want to give parents the tools and education to empower their children," Matt says. Parents are required to attend the courses, but the scheduling is flexible with morning and evening options. A member can create a private group session with 5 or 6 parents. Memberships also include access to academies that start when school ends, continuing education in the summer months, and keeping children engaged in activities while parents are at work.
The headquarters team includes coaches, a center director, member relations, sales, and retention to ensure the program works effectively and clients are happy with the results. Each team member must be certified to start and re-certified every month. The cost is affordable, can be a month-to-month or a 6-month membership, and includes over 400 members.