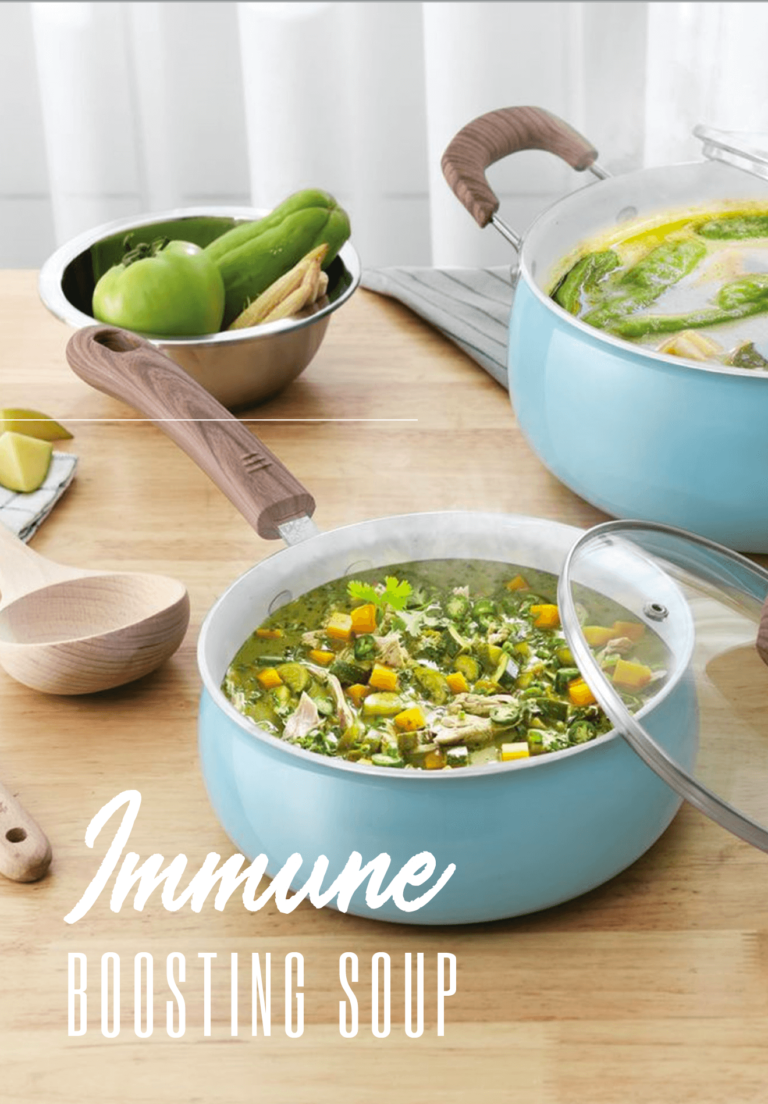 Cold and flu season is upon us which means we want to keep our bodies and immune systems as healthy as possible. We put together this delicious immune-boosting soup great for recovery or prevention. It's hot, steamy broth and a hint of pepper heat get your nose running—great for flushing out sinuses and potentially staving off an infection. This soup is packed with immune-boosting ingredients to keep your body healthy all winter long. Ginger is an anti-inflammatory and antioxidant, while garlic provides antibacterial, antiviral, and antifungal effects. Turmeric, which is a relative of ginger, contains a powerful antioxidant called curcumin which is responsible for this decrease in inflammation that is oftentimes found to be related to various illnesses. It's also loaded with antioxidants and vitamins from ingredients such as parsley and kale.
Ingredients
1 Tbsp avocado oil

1/2 small yellow onion finely diced*

2 large carrots peeled and chopped

1 large parsnip peeled and chopped

3 stalks celery chopped

3 cloves garlic minced*

1 lb boneless skinless chicken breasts chopped

2 tsp dried parsley

1 tsp ground turmeric

1/2 tsp ground ginger

1/2 tsp sea salt to taste

3 cups chicken bone broth

2/3 cup full-fat canned coconut milk

1 small head kale chopped

1/2 teaspoon crushed red pepper (optional)
Instructions
Heat the avocado oil in a large stock pot or Dutch oven over medium heat. Add the onion and saute, stirring occasionally, until translucent, about 5 to 8 minutes. Add the carrots, parsnips, celery, and garlic and continue sautéing, stirring occasionally, until vegetables are softened but still al dente, about 3 to 5 minutes.

Add the chopped chicken and cook just long enough to brown the meat, about 2 to 3 minutes.

Add the remaining ingredients, stir well and cover. Cook at a gentle simmer, stirring occasionally, for at least 30 minutes (ideally one hour). Taste soup for flavor and add more sea salt if desired. Serve and enjoy!