Fall is right around the corner and it's time to start making some delicious healthy fall recipes that will make you want to cozy up and most importantly, feel GOOD! We've put together two healthy fall-inspired recipes with bursts of seasonal flavors that will quickly become fall favorites all season long!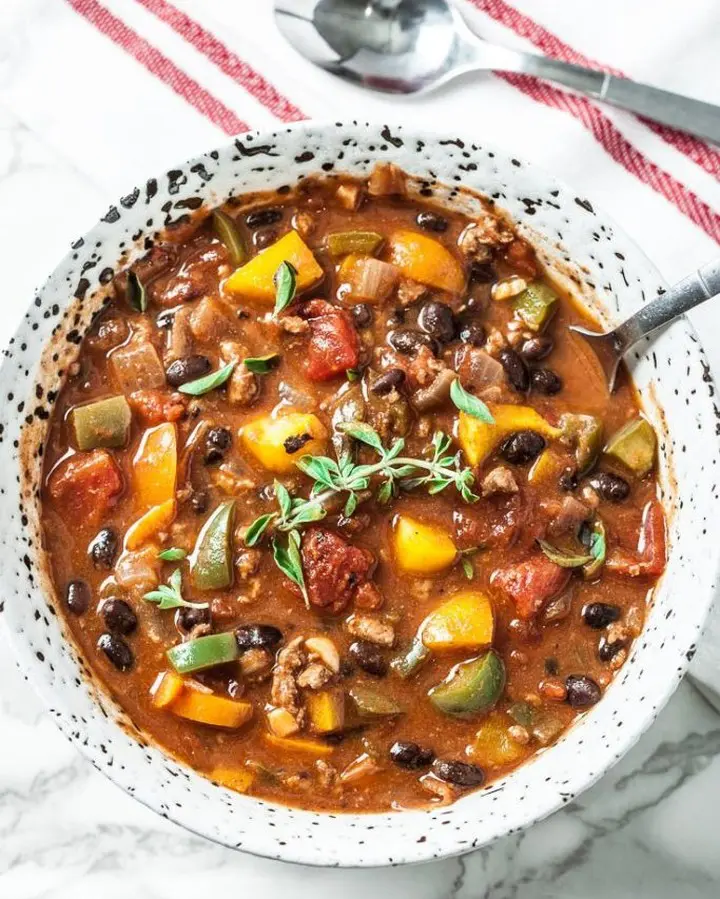 Healthy Fall Pumpkin Chili
Prep Time: 20 minutes 
Cook Time: 40 minutes 
Total Time: 1 hour
Servings: 10
*Courtesy of Chew Out Loud*
Ingredients:  
2 TB olive oil
1 onion, diced
7 cloves garlic, chopped
1 tsp sugar
1 TB chili powder
1 TB ground cumin
1 tsp pumpkin pie spice
2 tsp oregano
2 tsp ground coriander
1 lb lean ground turkey
3 TB tomato paste
2 green + 1 orange/yellow bell pepper, seeded and chopped
29 oz fire-roasted tomatoes, with juices
3 cups chicken or turkey broth
28 oz black beans, from can, rinsed and drained
½ cup pure pumpkin puree
Kosher salt and freshly ground black pepper
Shredded cheddar cheese for topping, optional
I

nstructions:
In a large heavy pot or Dutch oven, heat olive oil until hot. Add onion and garlic, stirring until fragrant, about 30 seconds. Add sugar, chili powder, cumin, pumpkin pie spice, oregano, and coriander. Stir to combine, 10 seconds.

Add ground turkey to pot and sprinkle 1 tsp salt over it; cook/stir to break up into small pieces. When turkey is cooked through, add tomato paste and stir for 30 seconds.

Add bell peppers, fire-roasted tomatoes with juices, and broth. Scrape the bottom of the pan while stirring. Bring chili to a simmer; simmer covered for 20 minutes. Add beans and pumpkin puree. Bring chili back to a simmer for 15-20 min or until heated through. Remove from heat. Add additional kosher salt and freshly ground black pepper to taste. Serve warm, with shredded cheddar cheese if desired.
Notes:
Chili keeps well; simply cover and chill in the fridge. Reheat by bringing it back to simmer on the stovetop.
Make it meatless by using veggie broth and omitting turkey.
Nutrition: (per serving)
Serving: 1g | Calories: 396kcal | Carbohydrates: 58g | Protein: 29g | Fat: 5g | Saturated Fat: 1g | Polyunsaturated Fat: 1g | Monounsaturated Fat: 2g | Trans Fat: 0.01g | Cholesterol: 25mg | Sodium: 257mg | Potassium: 1399mg | Fiber: 14g | Sugar: 5g | Vitamin A: 2661IU | Vitamin C: 4mg | Calcium: 152mg | Iron: 6mg
Three Sisters Sauté with Sage Pesto
Three Sisters Sauté is a traditional Native American dish that showcases a harmonious combination of three main crops: corn, beans, and squash. This dish not only reflects the agricultural practices of various Native American tribes but also holds cultural significance and a deep connection to the land.
*Courtesy of Thirty Nine Restaurant inside the First American Museum*
Ingredients:
1 lb of zucchini squash, cut into bite-sized pieces, or thinly julienned

3 tbsp olive oil

1 cup heirloom beans, cooked

2 cups fresh or frozen sweet corn, thawed and drained

1 cup chopped ripe Roma tomatoes

Salt and pepper to taste

1/3 cup sage pesto
Sage Pesto Ingredients:
1 cup pine nuts

1 1/2 cups fresh sage leaves, firmly packed

1/2 cup flat-leaf parsley leaves

1/2 cup olive oil

1/4 cup garlic chopped

1 tsp salt

1 lemon, juiced

1 tbsp fresh, mild goat cheese (optional)
Instructions:
Rinse and trim squashes, julienne on a mandoline slicer using the skins for a pasta effect, cut into bite-sized chunks, or use whole baby squashes.
Heat oil in a large sauté pan. Add squash and sauté for 1 minute, then in succession, tossing and stirring with each addition, add beans, corn, and tomatoes, then add the sage pesto stirring gently to distribute evenly.
Salt if needed, and serve.
Sage Pesto:
Toast pine nuts in a dry sauté pan or in a 350-degree oven on a sheet pan. 
Combine all ingredients in a food processor or blender and process until smooth.